Girl Scout stands up to demonstrator at neo-Nazi rally
May 5, 2017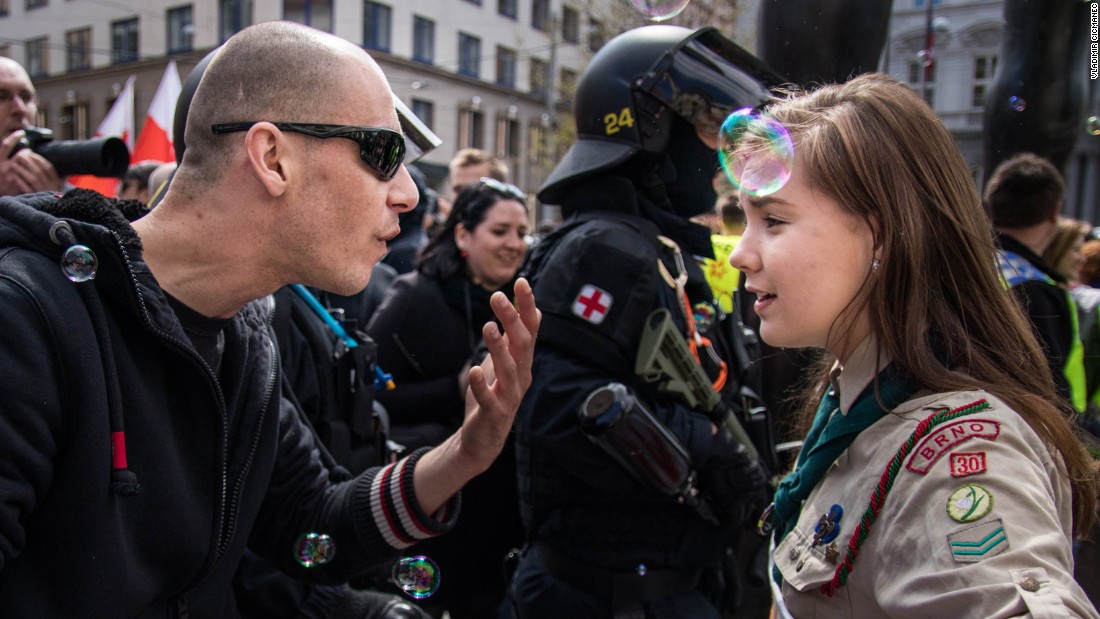 (CNN)The juxtaposition in the photo is startling: On the left, gesturing angrily, is a right-wing demonstrator sporting black clothes, sunglasses and a shaved head.
On the right, staring right back at him, is a 16-year-old Girl Scout.
The photo has been widely shared and has called attention to the Girl Scout, Lucie Myslkov.
"She was standing tall and she's 16 years old and she stood proud and made some profound arguments," Vladimir Cicmanec, who took the photo, told CNN.
"I didn't hear all of their exchange but they were talking about the concept of nations and nation-states, immigration, refugees," he said. "She tried to explain to him that nationalism makes no sense because we are all people and should not be treated differently based on some arbitrary distinctions."
The Scouts of Czech Republic told CNN that Lucie described the encounter as a "sharp debate" which did not turn violent.
Lucie was attending the counter demonstration with 7 or 8 other Scouts, Cicmanec told CNN.
"People from all walks of life, and #Scouts among them, came to the streets during an extreme right march yesterday, to express their support for values of diversity, peace and understanding," the post said. "Creating a better world!"